Going around gardens and looking at flowers is good for the soul; a mix of colours, shapes, and sizes all growing through each other creates a subliminal effect that lifts our mood and invigorates our senses. But flowers and blooming plants have other great benefits. With the exception of vision, no sense is as closely tied to memory as the sense of smell. Thus, smelling floral scents has the extraordinary power to put us in a good mood and feel less anxious.
When we approach creating our iconic luxury candle scents, we always start by looking at the flowers which would work well with each other, much like a border in a garden. Flowers were at the centre of creating our Garden Of Eden scent. Made with rich tuberose and lily of the valley, blended with fragrant jasmine and ylang-ylang, it is a deep, luxurious twist on the scents of the English cottage garden poured into a luxury scented candle.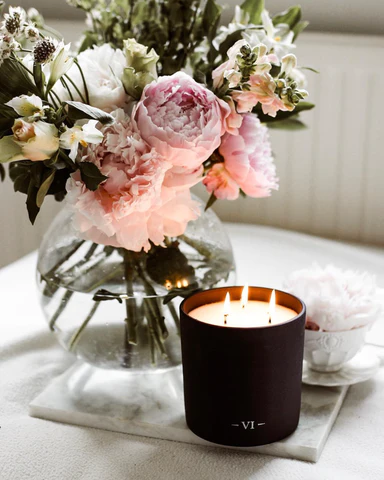 There are many possibilities to use such flower fragrances in your daily life. Certain flowers will help to relax and reduce stress while others spur lively action & energy.
Tuberose or 'Night Queen' is a sweet-smelling flowering tree. Did you know that the essential oil of the night queen flower can act as a strong aphrodisiac and relax your mind as well?
Bergamot will give you a real boost and relieve tension. It is a perfect perfume to feel good and stay focused.
Ylang-Ylang "the oil of the heart and emotions" helps us to relax.
Jasmine fragrances have a strong scent, flowering in the evening jasmine flowevrs are known for their aphrodisiac properties, sexy and earthy they can create an intimate atmosphere, they give depth to a scent.
Patchouli's small pale pink flowers are mood enhancing and add another layer to our luxury scented candles.