When it comes to candles, there are a thousand variations of a thousand different ingredients. It can be overwhelming! Naturally, every candlemaker wishes to distinguish their own fragrances, so it isn't enough to have just a single ingredient in the mix. You need to add a little something extra to make it truly special. That's where top, heart, and base notes come in.
In perfumery, the top, heart, and base notes function as a timeline for the fragrance. The top notes – usually citrus, and usually very light – will diminish the fastest. The base notes – woody, mossy, and heavy – will last the longest.
Naturally, it's a little different for luxury scented candles and reed diffusers, where all the ingredients remain constant. The amount of essential oil will influence the relative strength of each category. A citrus candle will smell more of top notes than base notes. So keep in mind how the candle itself is presented. That will be the most important clue for what to expect.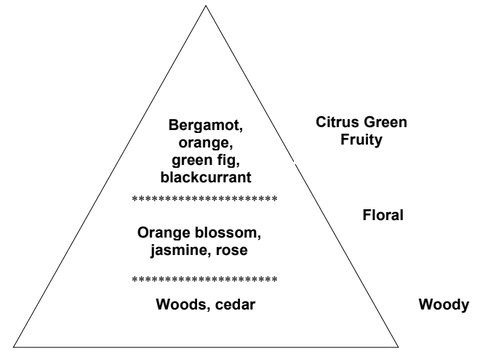 The pyramid above is an example of Elizabeth, our newest home fragrance. Citrus and fruity notes, which are quick to evaporate and typically quite light, form the top notes. It adds a little bit of freshness to this scent.
Florals form the heart – the jasmine in particular is quite powerful! Because this candle is meant to evoke the scent of a rose garden, the heart notes are extremely prominent. In this fragrance, the top and base notes are most certainly secondary.
The base is often going to be made of woody or resinous ingredients. When you first smell our Elizabeth scent, you may not even realise they're there. However, when you do burn the candle, you'll see just how much cedar influences the overall scent.
In truth, the fragrance pyramid is more straightforward in perfumery than candle-making. It's still helpful to see the fragrance pyramid for a candle in order to form a clear image of the scent. Knowing all of the ingredients can also give you a deeper appreciation for the art form, and which combinations you may love!